I was afraid that I'd outgrown Rainbow and Strawberry and other cheap apparel stores of my relative NYC youth. I am happy to report I have not.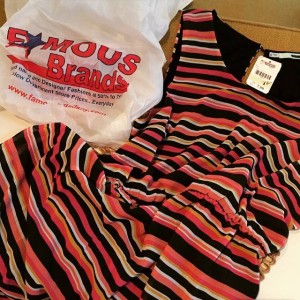 Famous Brands, a local chain, is more of an aggregator, reselling goods from Target, Ann Taylor Loft, C. Wonder (now defunct) to name names, but mostly brands far less famous like the $7.99 dress above that had Maurices, a mysteriously apostrophe-free Duluth-based retailer, blacked-out on the label.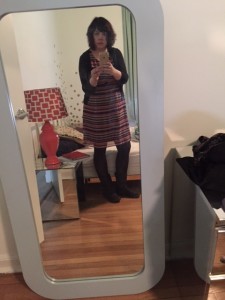 Here, a rare full-body mirror selfie because poly-blend dresses are very inspirational and it was the first day of spring. Yes, those are snow boots that I was secretly happy to pull back out of my closet because they are super comfortable and cushy. No, I didn't bother making my bed before leaving the house for work, which is why I keep skipping the okcupid question about whether you make your bed daily. I don't, but I see myself as someone who does.