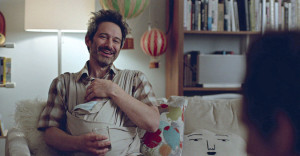 Adam Horovitz, a Beastie Boy in Middle Age
I would be on board with a 48 year old but the reality of the matter is that I don't know any 48 year olds. This occurred to me yesterday after two weekend parties (much crossover between crowds) where most attendees were late 20s to early 30s, getting hitched, having babies. I felt compelled to tell a story involving the use of "waver" as shorthand for new waver but caught myself because no one would have any idea what I was talking about, then tossed it out anyway–and nope.
There's a very confusing bit in the NYT article that makes it sounds like Adam Horovitz has a son in real life as opposed to his character in the Baumbach movie. I'm pretty sure we'd know if Kathleen Hanna had given birth, right? Not to mention, the lady is 46.
…Earlier he'd considered him for "Greenberg," another film starring Mr. Stiller. All three grew up in New York, the children of artistic parents. "There's a sensibility that we all connect to," Mr. Baumbach said, and shared cultural references. (Cookie Puss, a trippy Carvel ice cream cake that wound its way into the Beastie Boys debut single, looms large.) All are parents — Mr. Horovitz has a young son — and Mr. Baumbach, 45, was a longtime Beasties fan.