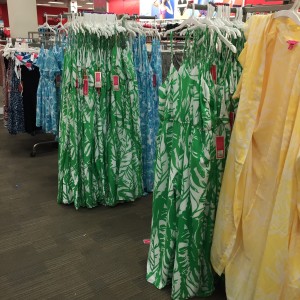 I'm often peripherally interested in Target's designer collaborations–and buy a few pieces here and there–but not enough to line up for the opportunity to buy crap I don't really need. By 1:15pm, more or less the only remaining Lilly Pulitzer items of clothing at the Elmhurst Target were a caftan, a jumpsuit and short dress and maxi dress in a blue pattern "sea urchin for you"that apparently no one liked. (Friday night I saw a Sarah Records documentary in NJ with fewer than 80 other people in attendance and was re-reminded how niche this genre is and growing smaller every year. I bring this up only because the first band on the label was called The Sea Urchins.)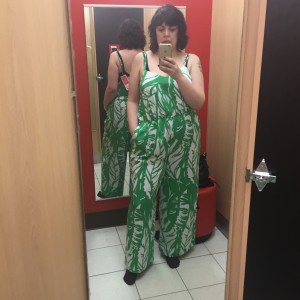 The weird thing was that I thought there had been criticism over the plus sizes only being sold online (after the elation that this collection would even come in plus sizes–I am in the sweet spot where I can wear large regular sizes or small plus and am still confused on how an XL differs from a 1X and how an XXL fits into all that) but 90% of what was left were 2X, 3X, 22W and 24W. Except for the crazy jumpsuit, so I tried it on despite an aversion to wearing pants. I almost bought it for shits and giggles to wear around the house or maybe a beach if I also didn't have an aversion to beaches but decided a photo commemorating its existence would suffice and save me $38.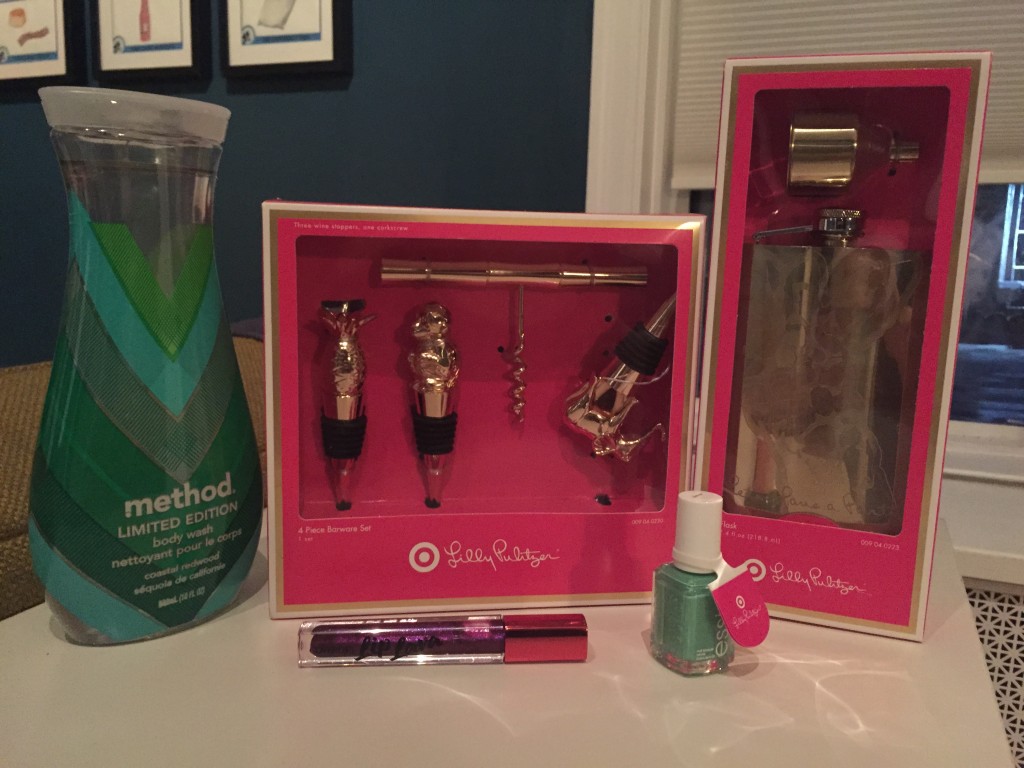 Instead, I bought a giraffe flask and assorted other animal bottle toppers. (Housewares and kids clothes weren't so picked over.) Oh, and  a mint green Essie nail polish, "First Timer" that was being sold with the Lilly Pulitzer clothing but wasn't a new shade.
And because it's Target where I can't not buy unnecessary items, I also picked up a Cover Girl Colorlicious lipgloss (a purple called Lava-nder) that's a little shimmery and sheer or intense if you build it up, and a Method body wash in coastal redwood mostly because I liked the color of the packaging. I bought a limited edition summer scent, brambleberry gelato, the summer before last summer and it was gross like a Strawberry Shortcake doll and yet I'm still using it because beauty products last for an eternity in my world and I'm too cheap to just throw them away. Like it or not, I'm going to be smelling like a pine tree for the next two years.