I've been on a mission to use up everything usable in my life before buying new versions. To some degree, at least. Ok, barely at all. Yesterday I started assessing all of the delivery condiments and cutlery and in a frenzy began ripping open all the little plastic baggies, separating out the napkins into one pile and tossing the forks, knives, and spoons into a separate bag…and then got overwhelmed by the clutter and threw the whole thing out.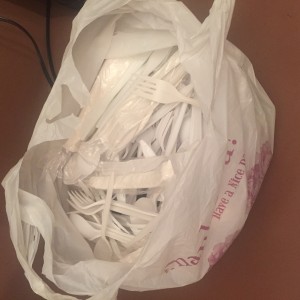 Now I'm working on the two Method liquid hand soaps with half an inch of product pooling at the base of each. But these are hidden on a shelf out of view because the Mrs. Meyer's rhubarb matches my bathroom's color scheme more and has a really nice scent, which isn't terribly fruit-like at all.  I vow to toss the grapefruit one, done or not, by the end of next week while vanilla-mint will be granted a reprieve because of the cute Orla Kiely design. Oh god, and I just received a Target shipment with new bath gel even though I still have 15% of a bottle in my shower. I'm tired of coastal redwood and decided I'm more jasmine coconut now. Is that a crime?
Makeup is generally excluded from this. I still have a perfectly good bold red Nars Velvet Matte Lip Pencil in Cruella, last year's Sephora birthday freebie, yet bought Kat Von D's Everlasting Liquid Lipstick in Underage last week. I also bought Benefit's semi-waterproof They're Real! before using up the Lancome Defincils (not bothering with those accents) that smudged under my eyes after I stopped wearing it on my bottom lashes. And now I'm having a major dilemma because I tried an Anastasia Brow Powder Duo sample yesterday and it looked way better on than the Lorac brow shadow that I've been using for like four years, at least long enough for the product to have devolved into a disgusting mess (that bottom pan is grimy wax, by the way) and looks like it will never get used up despite wearing it at least four times per week. Beyond the wastefulness, $25 here and $25 there can really add up. Though if that that $25 cosmetic lasts four years and I'm doing my math correctly, that's less than 2 cents per day…pennies, dammit.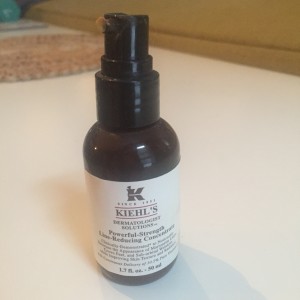 I don't think I'm ever going to make it to the bottom of all the face creams, oils, and moisturizers I've accumulated, though. I've hidden away all the non-essentials in a tub to languish. All of this is a long wind-up to say that this pump of Kiehl's has really made me think. I'll admit I don't use it daily, but I do use it regularly, and it has had to have been in my life for at least six years, which makes no logical sense. Whenever I think it must be finished up, impossible to deduce through the brown glass, I pump and a full blob emerges.
Maybe I'm confusing products (there was also a gifted Kiehl's eye cream at one point that I did toss because it turned my skin yellow) but I swear this came into my possession when James bought it as a Christmas gift for his sister relatively soon after she had a child and it turned out it was different from the product she'd asked for so he kept it. That child would have to be at least seven by now. What gives?
There is family lore that I'm sure I've mentioned before about how a bottle of roll-on deodorant, I want to say Sure, lasted me like my entire middle school tenure. It never seemed to run out to the point where it started becoming eerie.
Thank you for allowing me to take a break and share this important tale. Also, I'm going to start tagging these meanders with "making up" so they can be easily ignored. I will be certain to let you know when the Kiehl's goo can finally be thrown in the trash with good conscience.