I just won this 1970s chandelier on eBay, one step deeper into my new dangerous world of distraction: home decor for the home I don't technically own yet.
Where I used to procrastinate by browsing for the perfect height, comfortable heels, then the perfect shade of fake silver hair, followed violet-brown a year later, I'm now crazed with finding the right wallpaper with teal as prominent color, whether or not I could get lacquered/high-gloss walls without paying thousands of dollars to a Manhattan designer, and determining how stupid I am for suddenly wanting marble countertops, which apparently are a nightmare and you will be told a million times to consider granite or quartz (a manmade stone I've had in my last two apartments, which for some reason is very expensive, more than marble, which isn't that pricey in the scheme of things) or quartzite (real stone) instead. Oh, but not Cararra, which is the easiest to find–even Home Depot carries it–and least expensive. It must be Calacatta Gold. I won't even start on lavender subway tiles and how purple in general is just not a kitchen color, and stupid costly when you do find products.
It started with the kitchen, the only true eyesore. I've stared at this image for hours, not at once, but cumulatively over the past month and half. So. Many. Cabinets. The more I looked, the less I started caring about the mauve formica. Why not go with the '70s/early '80s vibe? A little woody, a little suburban, a little heavy and down. No white subway tile with dark grout or blinding white Scandinavian simplicity.
The mauve inspired the purchase of this wallpaper, Graham & Brown's Mirage. Everything must play off of it now. You can't really tell, but the background is gold with a metallic sheen.
I'm also not crazy about white rental appliances now that I'm an adult and won't be renting.  I'm also completely not into stainless steel, the once upscale trend that along with granite has stretched into a multi-decade joke, but that's life at the moment. What does everyone have against warm metals and color? Are we so sad as a nation that slate is considered radical?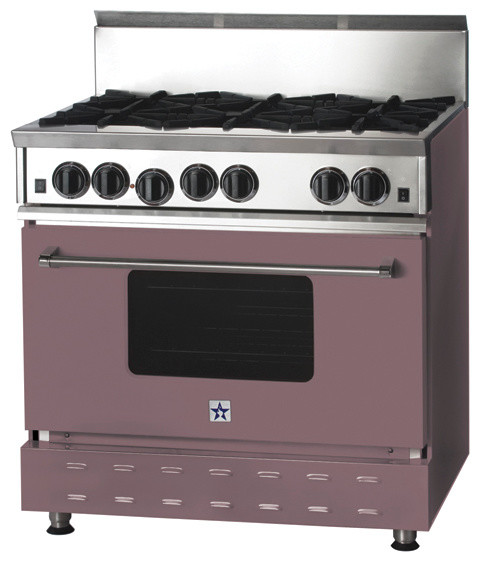 I've been waiting for GE to start producing these cupcake blue and eggplant fridges. I've been obsessing over BlueStar's 190 colors, especially the pastel violet, plus it's a powerful range and less expensive than Wolf and Viking, probably too powerful for a co-op board's approval in old apartment buildings where you can't vent outside. Too many BTUs. You will be shamed on GardenWeb, the premiere time-sucking message board for renovators, if you try to get away with an under-cabinet microwave fan or ductless range hoods.  Yet I see professional ranges in NYC apartments quite often on design blogs, though.  Some even forgo the range hood altogether and shove the stove up against the wall, which makes me think they either don't cook (I'm not convinced any of these $5000+ stove-owners cook anything that requires foot-high flames) or are even more clueless than I. I was clueless two months ago. Now I know too much about gas vs. duel-fuel, slide-in vs. built-in and sealed vs. unsealed burners.
Small or narrow appliances tend to be European and cost five times as much as GE or Frigidaire. My current refrigerator, an LG that looks like stainless steel but isn't, has always felt cramped to me and it's because as I recently discovered, it's only 10 cu. ft. and 24″ wide where the average American fridge is 36″ wide with more than double the capacity. When researching narrow fridges so that I may possibly squeeze in a dishwasher into the bank of cabinets where the sink already exists, I found out my options are this exact well-priced fridge or gazillion dollar German brands. I am now convincing myself that the LG isn't so bad, after all. Also, a single person doesn't really need a dishwasher, but dishwashers are surprisingly inexpensive and appear to be a requisite for resell value even though I didn't balk at its absence and pretty much every single thing I want to do to this apartment, including keeping the fleshy pink bathroom, will not boost status with the average buyers.
Everything I want is the opposite of "The American Room."
Really, if you glanced at Houzz, though, you'd think everyone in America owned eight-burner, 48″ stoves, marble slab islands larger than my entire kitchen, cabinetry more costly than a new car, walk-in pantries, and multiple refrigerators.
Concession: a Bosch range instead of the BlueStar, painting the cabinets mauve and changing the cabinet pulls and faucet to brass (even though I already fear that brass/gold hardware is the new chevron and ikat). I had no idea cabinets were the most expensive part of a kitchen. I'm stuck with these for now. Also, there will likely be butcher block, not marble. And yes, removing the formica would defeat the whole purpose of seeking out muted purple shades. Backsplash? I don't know, but I can't stop searching for shades of tile that don't exist. I love cork. I also like marble tile. By the way, is this chevron marble with gold trim just way too fucking much? Backsplash searching a great alternative to getting work or back-burner writing projects down.
All of this is to say, I guess I've got expensive taste, which I kind of knew.  (I would probably get carried away with beyond my means couture if high fashion actually came in my size.) Right now, I'm obsessing over the ideal with an eye to the practical. Also, maybe follow me on Pinterest if you're there.