I don't have a lot of old photos of myself, but I do have a good deal of old makeup. Maybe you've heard before that I'm a makeup hoarder. In the sense that I hold onto old lipsticks and eye shadows that are crammed into the backs of plastic storage tubs, not that they are spilling out of closets, overflowing into my hallways, and stacked to the ceiling. It just happens. It's not always intentional. 
So, Throwback Thursday to these three Rimmel lipglosses that I have no sentimental attachment to whatsoever and bought at Wal-Marts on separate occasions more than a decade ago. I haven't worn them in years. They can go in the trash. Nice knowing them.
And while I'm talking pointlessly about makeup, let me focus on purple. Because I had an allergic reaction to the purple Dior mascara I bought for my birthday but still wanted purple mascara, I went looking for one without carmine as an ingredient. Yves Saint Laurent's version on Sephora.com listed no such thing. And yet the packaging did and it seemed fine two times and then gave me bloodshot eyes the third wearing. There is no moral to this. I'll probably wear it again in the future when the mood strikes and have gross-looking eyes the next day.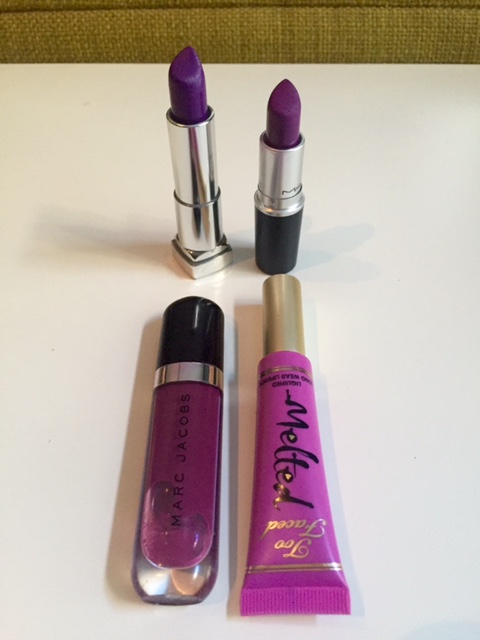 I now have too many purple lipsticks and glosses so don't know when to wear one or the other. The Marc Jacobs Lust for Lacquer Lip Vinyl in boom boom I bought for my birthday last year and it's great but was given the Too Faced Melted in melted violet this year as a gift and it's kind of better if you're into a more pigmented, intense experience that's marginally less shiny. I've already spoken about the MAC matte shade Heroine and it's drugstore clone, Maybelline's Lavender Bolt, which I prefer. Even if I only wear each of these a few times a year and eventually stop altogether, I suspect they will still be in my possession when I'm 53. I hope to have upgraded from those Container Store plastic tubs that I only bought because they fit perfectly into an oddball space in my Williamsburg apartment's bathroom by then. (I miss that bathroom.) There's some food for thought.
Instead of a violet sheen, the direction I went hair-wise when I got rid of my platinum-to-intentional-silver two summers ago,  I recently went  coppery-bronze, or tried to, the idea being that semi-permanent gold tones won't hold onto grays that well so as my roots grow and I keep dousing them every few weeks, I'll end up with blonde rather than white streaks eventually. Except it looks kind of crazy and orangey and like how older white-haired Indian men look when using henna. I see it a lot in my neighborhood. There's a reason why ombre hair tends to go dark to light at the edges not the reverse. Having lighter roots also makes you look balding like goth kids of my youth who were natural blondes. I will master the 70% gray hair dilemma at some point, probably just by giving up.