I love how on the most recent episode of The Affair, chipped nail polish and roots showing (which you can't even make out in this poor resolution snip from Showtime Anytime, which I just decided to test out) signify going off the deep end. At least in brownstone Brooklyn. Next thing you know you're a middle-aged mom of four, drunk and high during the middle of the afternoon, and you end up alone and arrested after bad sex with the douchey man who's had a thing for you since college gives your cheating husband $50,000 and invites you to Buenos Aires for a week and you say no. (I would at least take the trip.)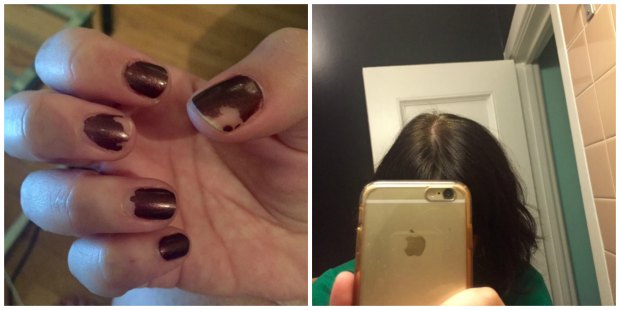 That's me right now hair and manicure wise and I was debating whether fixing at least my nails (or just removing the polish) before work tomorrow but I'm tired after a weekend out of town eating and drinking like a maniac in Detroit.
Oh, and I had another purple lipgloss I forgot about but brought on mini-vacation then wiped-off in favor of the Maybelline, which was less bold. Too much makeup for three days really.