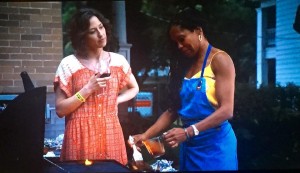 While I'm just marginally more motivated than a few weeks ago when it was A/C weather (I had my first Thanksgiving thought this morning. Seriously. That thought was that I'll cook a turkey this year after a decade of avoidance) there has been a minor shift in mood and I just realized why. My apartment is totally a fall/winter apartment. I was feeling kind of negative about this living situation over the summer (I still wish I could sublet legally) but it just came back into its own, cozy against the sudden chill with radiators and heated pipes just below the bathroom floor, my bold color schemes played up with the light and shadows instead of overwhelming or being washed out. I have even experienced a renewed urge to cook instead of abusing Seamless.
A reminder that it's time to schedule another dental cleaning, though, made me realize that I'm not fully adjusted to my geographical shift. For so long I lived in Brooklyn and worked in the Financial District, so all of my service providers were chosen to accommodate that. Now I'm in Queens and work in Times Square, so I should be thinking more midtown and its periphery or even UES. Having to take a subway one hour to get my teeth cleaned just means I'll keep putting off scheduling an appointment.
I chose my primary care physician in Union Square in 1999 when I first got insurance. I also lived in Queens then but that seemed central and James lived a block away. That's actually a really weird deciding factor in retrospect, to pick a doctor based on proximity to someone you've only been dating a few months. He moved to Brooklyn five years later. I kept the doctor, that medical hub, and now all of my gynecological, neurological, nephrology, radiology, ophthalmology and more are along the L line and not all that helpful to me. My doctor moved to a new office in the West Village maybe last year, and then quit the practice altogether last month. So, this is it. My opportunity for a total fresh start in a new quadrant of the city. No more downtown ties, minus eating and drinking, obviously. 
I posted a photo on Facebook from last night's premiere of  The Leftovers because Carrie Coon/Nora, was wearing a dress I own, a rare Anthropologie number that actually looks better with more boobs and hips. That's totally a personal blog post subject, not Facebook fodder, but once again I have my reasons.
On the flipside, I started posting the bit below on Facebook then stopped myself because I'm not sure what I was trying to achieve with that. Plus, it's also kind of a lie. I really would like to go to a nice suburban chain this weekend, though, and not by myself. (I would also like to be able to get something like oysters–or even a non-fast food burger–and a cocktail, total gentrification cliches, on the early side in my neighborhood on days I work from home, instead of being bummed out by Colombian sports bars and Mexican pseudo-strip clubs, but what can you do?)
While opening a Halloween email from Maggiano's it occurred to me that the primary reason I would want a boyfriend at this point in my life is so that I could rely on someone to accompany me to Cheesecake Factory, Bonefish Grill and the like when I get the urge (one can't expect casual dates to comply with such demands). That's either very compelling or very dismal.